SERVING PATIENTS WORLDWIDE
Due to osteoarthritis I needed a total hip replacement. As a USA resident who travels extensively for work I looked all over Latin America and Europe. However I wanted a specific style of hip replacement. This was offered by Dr Mendoza, from the beginning contact with Lori it was a very professional experience. I spent a month in guadalajara and could not have been happier with the outcome. If I ever have to have the other done I know where I am going. Thanks again for all the great work Rob Jones

As a resident of the United States and in need of a reliable,cost effective orthopedical procedure, I chose Dr. Mendoza in lieu of other facilites researched in Central America and am extremely pleased with the results. The medical care, personal attention, and professionalism received from Dr. Mendoza, his staff, and clinical personnel was of the highest quality and I couldn't have asked for better, anywhere. Even after arriving back to the U.S., Dr. Mendoza and his staff continued follow-up communications to ensure my recovery was a success. Thank you again for a job well done.

I did a lot of research before coming to Mexico for such a major surgery. When I found Dr. Mendoza and read about his experience around the world with minimally invasive hip replacement, I felt fairly sure he was the surgeon I wanted for my procedure. I then made contact with his assistant, and from that point forward, I knew I had made the right decision. She and Dr. Mendoza are warm and friendly, as well as professional and quick to respond. After viewing my x-rays, Dr. Mendoza told me things about my hip, and why I had developed my problem, things my American doctors had never bothered to explain. My American doctors always treated me as if they didn't want to be bothered and were trying to get rid of me as soon as possible. My first visit with Dr. Mendoza lasted 45 minutes, and he treated me as if he had all day to spend, answering any questions I had. My hospital room was a beautiful suite, where my husband had a nice leather couch to sleep on. The nursing staff was very knowledgeable and prompt to respond if I needed anything. After leaving the hospital, I had a lot of pain on my first night, and Dr. Mendoza called my husband and prescribed a heavier medication. It says on his letterhead in Spanish "house calls"! I can't say enough good about my experience with Dr. Oscar Mendoza and his staff. Thank you, Dr. Mendoza!

We were recommended to Dr. Mendoza by Dr. Torres in Mazatlan as a highly skilled and meticulous surgeon. I had waited in pain for close to 3years in Canada for treatment ; The surgery was completed 2 days after arriving in Guadalajara. The surgery was perfect and there were no significant pain levels. The follow up after surgery items ei. walker, ambulance trip back to our hotel, and daily visit by the physiotherapist were all organized by Dr. Mendoza's professional staff. This is medical care at its best and incredible value for the price. I see a golf course in my future.

Excelente atención del médico y el personal. Me explicó detalladamente el problema y la terapia a seguir
---
Contact Dr. Oscar Mendoza Orthopedic Clinic
Once you click the button you will receive your quote in your email within a few minutes and we will never spam you.
Knee Replacement Surgery in Mexico with Dr. Oscar Mendoza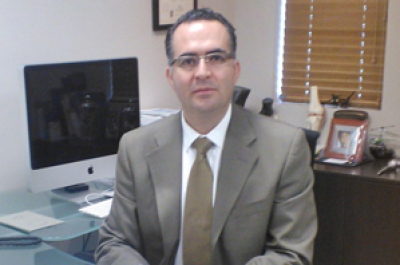 Knee Replacement Surgery in Mexico is dedicated…
To less pain, superior results, and a successful knee replacement surgery recovery
To affordable, cost effective options for orthopedic surgery abroad
To helping you understand the benefits and potential risks of knee surgery
To the Midvastus approach for Total Knee Replacement surgery
Contemplating knee replacement surgery, for any individual of any age, can be a fearsome experience. We are here to help you understand the appropriate expectations for your recovery period, as well making empowered decisions about knee replacement surgery in Mexico.  It is our intention to make your knee replacement experience as informative and pleasant as possible.
Premier Knee Replacement Surgeon in Mexico
At the renowned Puerto de Hierro Hospital in Guadalajara, our steadfast approach exemplifies treating our patients with compassion and respect, with an overwhelming obligation to providing innovative, effective, and technologically advanced surgical treatment types for your knees.
As an international leader in the field of knee replacement, Dr. Oscar Mendoza is uniquely qualified in his experience with minimally invasive techniques for total knee replacements Mexico, unicompartmental replacement Mexico, as well as revision knee replacement surgery Mexico. He is one of the best surgeons in the world employing computer-aided assistance during knee replacement surgery and he continues to be at the forefront of knee replacement progresses.
Mid-Vastus Approach to Knee Replacement Surgery in Mexico
One of the most significant and perplexing steps to knee replacement surgery in Mexico is defined by the correct approach and precise incisions.
Our cutting-edge approach to knee replacement in Mexico is associated with rapid functional recovery and significant improvements in the range of motion. Our surgeon, Dr. Oscar Mendoza performs total knee replacement using the Mid-Vastus approach safely and delivers excellent proven results in modern orthopedics.
Affordable Cost of Knee Replacement Surgery in Mexico
The cost of knee replacement surgery varies from patient to patient. Treatment costs are associated with diverse patient ages, gender, conditions and necessary implants. Knee replacement Mexico delivers affordable costs without compromising on the quality and dedication to your surgery needs. Increasingly, patients from the US and UK are recognizing the inexpensive costs of knee replacement surgery in Mexico and escaping the drastic surgery costs at home.
The affordable cost of our knee replacement surgery delivers you the highest superiority of surgery, most advanced implants, progressive techniques and tailored services.
Travel to Mexico for Knee Replacement Surgery
No matter what your passion in life, we are here to get you back in the game. With access to the latest advances and riveting therapies, knee replacement surgery in Mexico delivers you the best options for treating knee injuries and disease and delivers committed medical services for those seeking medical care abroad.
Knee Replacement Surgery Mexico