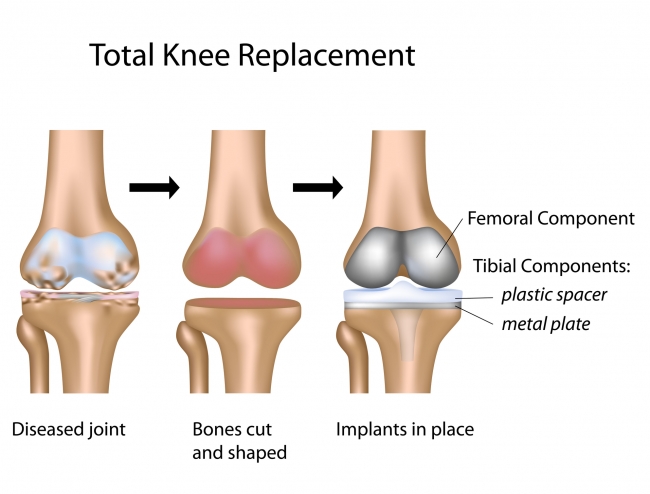 What will I experience as a patient of Dr. Oscar Mendoza? What happens during knee replacement surgery Mexico? It is significant to understand the general process of knee replacement surgery in Mexico. Every patient's experience is unique and may include various modifications to our surgery preparation to optimize your experience.
Anesthesia Before Knee Replacement
Dr. Oscar Mendoza and his elite team will administer fluids, antibiotics or medications before your surgery. You will be located to an operating room inside the premier Puerto de Hierro Hospital and given anesthesia. The typical anesthetic used is regional anesthesia. Regional anesthesia warrants no pain during knee replacement surgery in Mexico.
If general anesthesia is employed, you will be given medication through an intravenous line. Once you are completely asleep, a breathing tube is placed and your breathing is assisted with a ventilator.
Precise Incision of Knee Replacement
A cuff is placed around your thigh and will be inflated during surgery to help reduce blood loss. The incision is made along the front of the knee to expose the joint. With complete visibility, Dr. Oscar Mendoza employs powerful instruments to remove the damaged surfaces and shape the ends of the bones; preparing for the location of knee replacement implants and ultimately correcting deformities of the knee.
The implants are secured to the bones and if required, ligaments are attuned in order to achieve the best possible knee function. When Dr. Oscar Mendoza feels comfortable and completely satisfied with the fit, the incision is closed.
Tow drains are inserted near the surgery site to drain the fluids and assist with evacuation of blood. A sterile bandage is applied, and you are located to a private recovery room, for close supervision.
Knee replacement surgery in Mexico lasts between 1 and 3 hours, depending on your distinct conditions.
As your anesthesia wears off, a family member/and or our compassionate nursing team will be with you. You will be given pain medication and taken to your hospital room. Patients generally stay in the hospital in Guadalajara for 2-4 days following total knee replacement surgery in Mexico before returning home to begin the knee replacement recovery process.
How is the Implant Affixed in the Body?
Implants are attached as either cemented implants in Mexico using bone cement or cementless implants in Mexico (biologic ingrowth) or a unique combination of both.
Our decision to use cemented or cementless implants depends upon the intended use of the implant and the patient's condition.
Get a FREE quote for Knee Replacement
Once you click the button you will receive your quote in your email within a few minutes and we will never spam you.