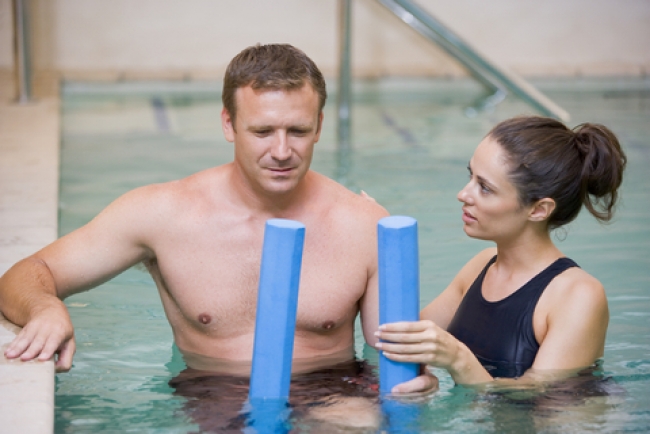 Many patients return to activities after rehabilitation that they had given up in the years before surgery.  Dr. Oscar Mendoza will provide you with specific instructions which you need to follow wisely.
Successful knee replacement surgery requires a considerable investment of time and energy in rehabilitation following the surgery. Rehabilitation begins in the hospital, usually the day after surgery. During this period, a stringent schedule of exercise, rest, and medication is crucial to the success of the sur­gery.
Recovery from knee replacement surgery involves a series of sessions with a physical therapist. Physical therapy exercises focus on building strength and regaining flexibility. In addition, every patient receives a regimen of exercises to perform at home.
Life After Knee Replacement Surgery
Post-operative rehabilitation recommendations will vary depending on the invasiveness of your surgery and your individual recovery patterns.  The immediate focus in all surgeries will be on swelling and pain management.
Follow the recommendations of your surgeon and physical therapist. Keep a log to track your progress as you recover and increase activity. Wear loose, comfortable clothing during your recovery period.
What can I expect after knee replacement surgery?
Vigorous rehabilitation programs will aid you to regain strength, balance, and range of motion in your knee. Your physical therapist will help you perform appropriate exercises.
About 24 hours after surgery, you will be asked to stand. Within the next 24 hours, you will probably begin to walk a few steps with the help of a walker. Your bandages and sutures will typically be removed before you leave the hospital.
How soon can I return to normal activities after surgery?
Return to any moderate or demanding activities should be guided by your tolerance for weight bearing in most cases; successful knee replacement surgery will dismiss your pain and stiffness, and allow you to continue many of your normal daily activities.
But even after you have fully recovered from your surgery, you will still have restrictions. Normal daily activities do not include contact sports or activities that put unwarranted strain on your joints. Although your artificial joint can be replaced, a second implant is seldom as effective as the first.
Contact Dr. Oscar Mendoza Orthopedic Clinic
Once you click the button you will receive your quote in your email within a few minutes and we will never spam you.